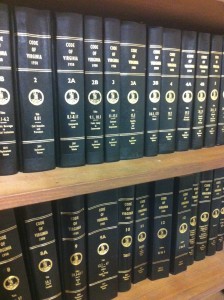 In today's technological world, it comes as no surprise that almost everything is online.  So, it should not surprise you to learn that the entire Virginia Code, in all its glory, is online with a user-friendly, searchable database.
What is the Virginia Code?
The Virginia Code is, simply put, the laws in Virginia.  The Code is the collection of statutes that the legislature has created and amended over time.  These written statutes (a.k.a. "code sections") are laws that govern our society.
If you have ever been in criminal or traffic court, you have probably heard the Judge or the clerk announce to a defendant, "You have been charged with violating Section 18.2-xxxx of the Code".  That is a reference to one statute.  But there are thousands, governing everything including crime, contract, divorce, custody, probate, licensing, insurance, adoption, etc.
Why You Might Want to Look at the Virginia Code?
If you are involved in a Legal Action
Criminal or Traffic Charge

– if you have been charged with a criminal or traffic offense in Virginia, you should receive a summons, warrant or indictment.  On any of these documents is a code section (sometimes more than one).  For example, if you have been charged with assault and battery, you should see Virginia Code Section 18.2-57.  The section will describe the behavior that is prohibited and will usually specify the degree of the charge and, in some cases, the punishment range.

Civil Case

– if you are involved in a civil action, the Judge may turn to the Code to find the legal standard that applies to your case.  For example, in a child custody case the Court is obligated to consider certain "statutory factors" set forth in Virginia Code Section 20-124.3.  The same is true for certain civil contract suits, among many other types of civil litigation.
If you are wondering whether you can bring a Legal Action
If you think you have a legal action against another, the Code may be of some assistance.   Search for the issue you are having and you may find the answers you were looking for.
If you are wondering whether you should do something or not–I.E. whether a particular activity is prohibited.  Reading the Virginia Code can often be any eye opening experience.  There are so many things that you probably are not aware of—some of them are even criminal laws that you would  not have thought existed.
How To Access the Virginia Code Online?
Visit the searchable database: Code of Virginia (http://leg1.state.va.us/000/src.htm).

Search via words and phrases

(in the search term box)

Just like you would in google (sort of).  If you want to search for a couple of words/phrases, insert the word "and" inside.
Be careful to use the exact word you want.  If you want word variations, insert a "*" (i.e. "Custod*" for custodian or custody).

Search via Table of Contents

This takes you to a list of the Titles.  In this way, the statutes are nicely organized by topic.  If you want Family Law, for example, it is listed next to its Title (Title 20: Domestic Relations).
Once you are inside a particular title, you should see a list of Chapters.  These are basically subtopics.
Once you are inside a particular Chapter, you should see a list of every statute within the chapter.

Search via Popular Names

A click on this will bring you to a list of popular legislative acts, including Uniform statutes (i.e. "Uniform Child Custody Jurisdiction and Enforcement Act").

NOTES:

If you are having trouble, use the search examples provided to help you reformat your search.
READ THE ENTIRE SECTION.  Don't stop after the first paragraph.  Sometimes, within a particular section, there are exceptions or additional rules that might impact your situation.  So be sure to review everything–after all, if you're spending time to look up a statute, odds are it is probably important!
The online database will also let you review a portion of the statutes history, including amendments (click on the hyper-linked numbers at the bottom of the statute).
If you have questions about the Virginia Code, or about any legal issue you may be facing, call an experienced Virginia Trial Lawyer at BoykoNapier today at (804) 658-3418 or contact us via email.  We represent clients throughout Central Virginia, including Richmond, Chesterfield, Henrico, Hanover and the surrounding localities.